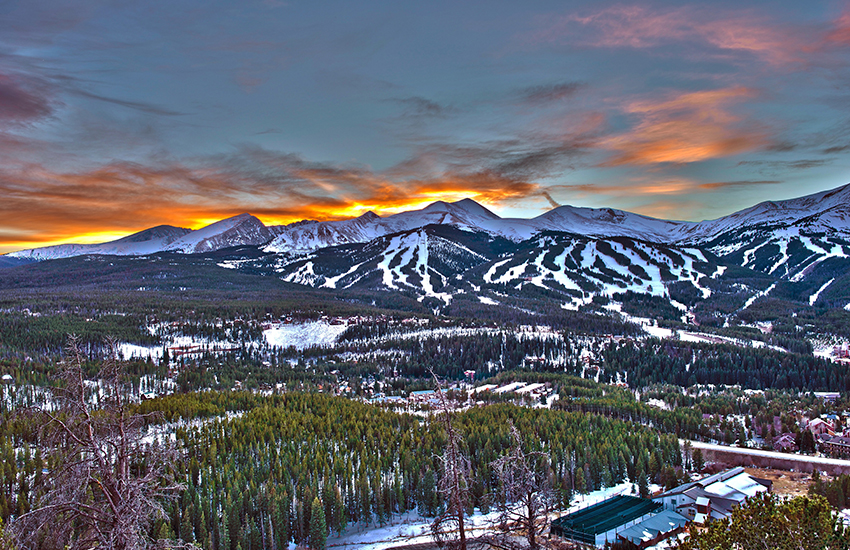 During World War II, the 10th Mountain Division Sandy Treat learned to ski on a trip to Lake Placid with his family when he was six, and became an integral part of the history of skiing in Colorado, long before he moved to the state, as a volunteer for the 10th Mountain Division.
Behind Breckenridge Theatre
Treat trained with the 10th Division at Camp Hale and, as an experienced skier, also instructed his fellow troops; using his cross-country knowledge, Treat showed soldiers how to ski through trees with 90-pound packs on their backs. He moved to Colorado with his family in 1986 and became one of the most dominant male Master skiers of his class in the Rocky Mountain Region and a major part of the skiing community.
Treat served as historical adviser for a new play at the Breckenridge Backstage Theatre titled "The 10th."  The play is part one of three-part series, which tells the history of the Breckenridge Ski Resort. According to the website:
The 10th follows two recruits who join the 85th Regiment at Camp Hale in the Pando Valley for the purpose of becoming alpine soldiers. Thrown into a battalion already reeling from a disastrous mission in the Aleutian Islands, the new recruits must deal with a splintered division populated by an overly-educated army force of Dartmouth and Harvard graduates, oversize egos, cantankerous mule skinners, and the looming six week mission in the dead of winter known as "D Series."

Fortitude, faith, and fighting spirit combine to create a brotherhood of soldiers never seen before – or since.
Performance Dates:
February | 7, 8, 13, 14, 15, 16, 20, 21, 22, 27, 28
March | 1
Treat will appear at the gala opening night ceremony on February 7th.
Ticket Prices:
Adult $25 (plus $2 surcharge)
Youth $20 (plus $2 surcharge)
Group of 10 or more $23 (plus $2 surcharge)
Note: Tickets purchased thru the Box Office are an additional $2.
Ski Cycle Play Pass $100 (Your all-access pass to the creation of a monumental story about Breckenridge, Summit County, and Beyond. The Ski Area Play Cycle is comprised of three stories: The 10th, The Roadhouse, and The Kingdom. Includes admission to all three plays in the cycle, a special invitation to each Gala Opening, and exclusive behind-the-scenes events, tours, and meet and greets. After purchasing the pass please call (970) 453-0199 to reserve your seats.)
The 10th Mountain Division is not often covered in theater, film and fiction. For a fascinating novel about this amazing group of soldiers, check out Loveland.
This book makes engaging airplane reading on your way to Breckenridge. The story takes place in the aftermath of the September 11 attacks, with flashbacks to Camp Hale and World War II. Loveland, one of the lesser know Colorado ski areas, plays a key role in the story.
Relax, read and enjoy the flight, while knowing that shipskis.com is delivering your skis to their destination.