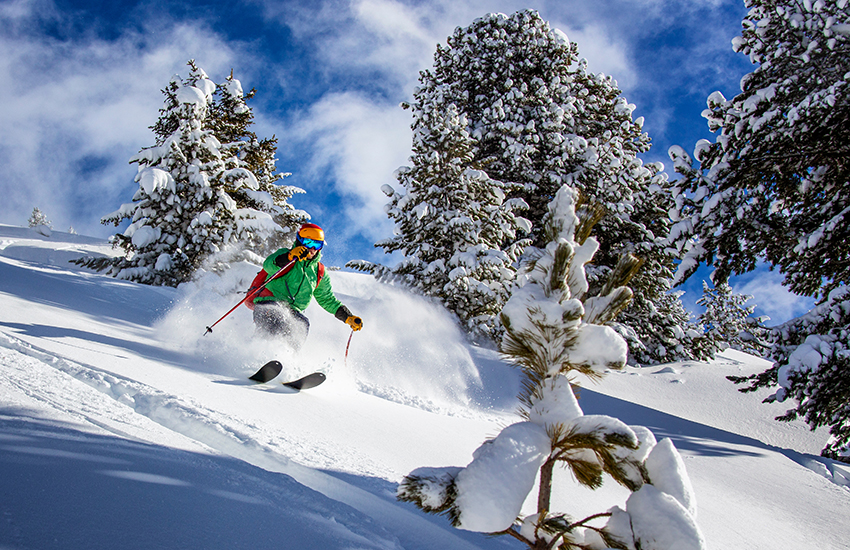 Getting tired of the same old runs and ready for something new? Have you ever tried tree skiing? Also known as glade skiing, tree skiing offers the thrill of riding untouched powder. That's why it holds such a special place in the heart of so many skiers. It does, however, require a certain skill and level of riding. So, read more about the best resorts for tree skiing around the world.
Top Resorts for Tree Skiing Around the World
1. Steamboat, Colorado
With its champagne powder and impeccably spaced trees, it doesn't take long to see why Steamboat is largely regarded as the tree skiing capital of the United States. For the best tree skiing in Steamboat, check out Sunshine Peak accessible by Sunshine Express or Priest Creek chairlifts. For even more challenging runs, chutes 1-3 at the Christmas Bowl will surely satisfy your inner thrill-seeker. Morningside Park is another great option, especially for riders new to tree skiing.
2. Whistler Blackcomb, British Columbia
As one of the best skiing and snowboarding destinations in the world, it shouldn't come as any surprise that Whistler Blackcomb boasts some epic tree skiing, too. There are endless glades to explore, but we've gathered some of the best ones. The 7th Heaven Chair has several nearby runs like Where's Joe?, Yard Sale, Raptor's Ride, and Watch Out. And the Crystal Ridge Chair leads to even more gems like Outer Limits and Arthur's Choice.
3. Jackson Hole, Wyoming
Every skier or snowboarder knows that Jackson Hole offers a fabulous variety of terrain. And the tree skiing is no exception! Steeper and more challenging skiing can be found off the Bridget Gondola and the Apres Vous Lift. But for some easier riding, there's simpler tree terrain under the Sublette Lift.
4. Serre Chevalier, France
For some of the best tree skiing in Europe, look no further than Serre Chevalier. Serre Chevalier is located in southeastern France near the Italian border and it's one of the few places in Europe with reliably consistent tree skiing. One of the reasons it's such a popular destination, however, is that its above-tree-line terrain is equally as impressive.
5. Red Mountain, British Columbia
For some five-star tree skiing north of the border, you can't go wrong with a ski trip to Red Mountain in beautiful British Columbia. There are an infinite number of runs through trees that are best for more experienced riders. Tree spacing varies significantly, so riding at Red Mountain requires you to be technically advanced, too.
Travel bag-free and stress-free to these best resorts for tree skiing with Ship Skis. Ship Skis is the premier service to use on all your winter getaways. You can ship your skis, snowboard, and luggage ahead to avoid all the airport headaches. Learn more or get a free quote today.