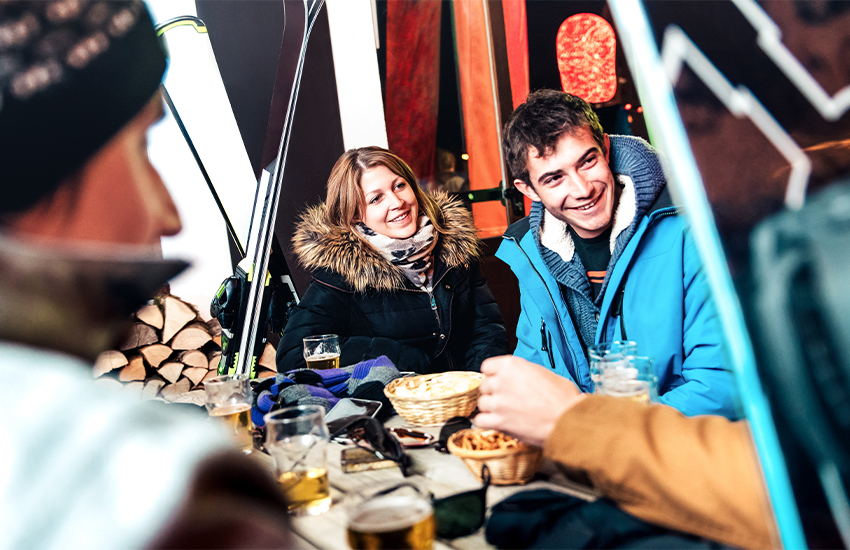 Skiing or snowboarding can make you work up a hefty appetite! And after a long day on the slopes, we know you require some fresh and tasty grub to refuel. Read more about the best ski resorts and ski towns for dining in the U.S.!
5 of the Best Ski Towns for Dining in the U.S.
1. Deer Valley, Utah
There are dozens of restaurants in and around Deer Valley to enjoy. The Mariposa is a fan-favorite for on-mountain dining, where guests can indulge in six- and eight-course tasting menus along with specialty cocktails. Cast & Cut is the newest addition to the resort, having just opened this winter season! The restaurant's award-winning chefs serve some of the best slopeside seafood and steaks. 
2. Vail, Colorado
Dining is an intrinsic part of the luxurious Vail experience. And there are dozens of options to choose from including The 10th. This restaurant is a must-visit due to its tasty fine dining and setting at the top of Gondola One overlooking the Gore Range. For even more epic views, venture over to Two Elk at the top of the Sourdough Express Lift.
3. Sun Valley, Idaho
Whether you're looking for a fancy feast or a casual cocktail after a day on the mountain, Sun Valley is one of the best ski towns for dining. Begin your day with breakfast at Konditorei with European pastries and hot cocoa. Indulge in a lunchtime taco bar and bask in the panoramic views at Lookout Day Lodge. And finish your day with dinner at The Roundhouse, one of the country's oldest on-mountain dining experiences.
4. Keystone, Colorado
From an elegant dinner to smoked barbeque and tasty brews, Keystone offers a little bit of everything. One of the most unique experiences, however, is Keystone Resort's sleigh ride dinners. Glide through the snow on a cozy, horse-drawn sleigh to a charming homestead serving hearty meals. Reservations are required.
5. Taos, New Mexico
Refuel before and after a long day on the mountain at Taos Ski Valley and in the town of Taos. And it doesn't take long to see why it's one of the best ski towns for dining in the U.S. From farm-to-table experiences to the Taos Winter Wine Festival, the culinary scene in Taos is next-level.