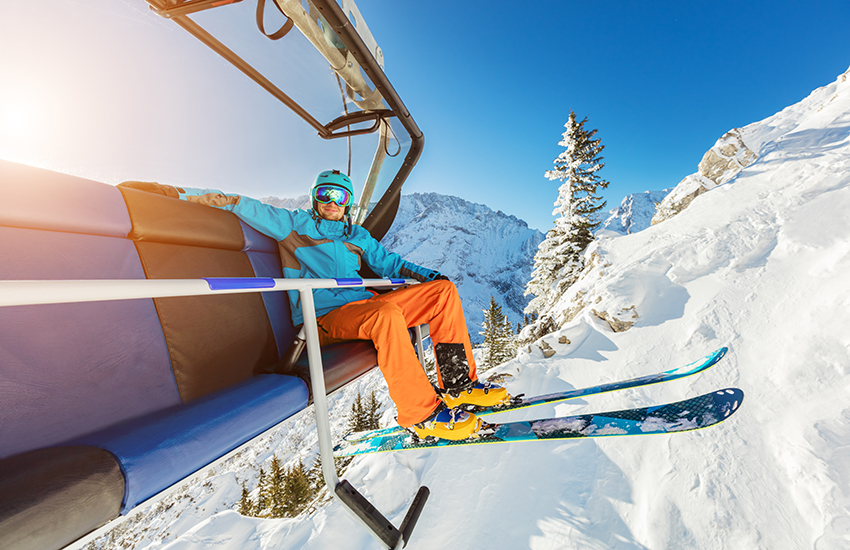 Skiing and snowboarding are such unique sports. And the lingo associated with them is just as interesting! We're here to make sure you know all the words in the ski glossary before you hit the slopes. Read on and you'll be speaking like a seasoned skier or snowboarder in no time!
Here's The Essential Ski Glossary 
Aerials: Freestyle ski jumping with in-air tricks.
Alpine Skiing: Downhill skiing.
Apres-Ski: Activities enjoyed after a day of skiing, typically spending the evening in a bar. 
Binding: The piece connecting your snow boot to your skis or snowboard.
Black Run: Describes an advanced-level ski slope.
Blue Run: Describes a more manageable ski slope good for beginners.
Chair Lift: A ski lift that transports you to the top of the mountain.
Cross-Country Skiing: Skiing along gentle hills for long periods of time.
Fakie: Skiing or snowboarding backward.
Freestyle: Skiing or snowboarding that includes jumps and tricks.
Gondola: An enclosed ski lift.
Grooming: When machines smooth out the snow on the mountain.
Halfpipe: A U-shaped funnel used for freestyle skiing and snowboarding.
Hard Pack: Compressed snow.
Heliskiing: Taking a helicopter to more remote areas for skiing or snowboarding on untouched snow.
Moguls: Bumps on more advanced ski slopes.
Nordic Skiing: The same as cross-country skiing.
Off-Piste: Areas outside of marked slopes.
Piste: French for "ski slope."
Powder: Fresh snow.
Red Run: Intermediate level slope.
Rope Lift: A slow-moving rope that transports skiers and snowboarders to the top of the slope.
Ski Area: Marked area on the mountain for skiers and snowboarders.
Slalom: A downhill race involving tight and quick turns around gates.
Slope: Downhill area for skiers and snowboarders.
Slush: Wet or melting snow.
Snow Machine: Machines that produce artificial snow.
Snow Park: Specific area for freestyle skiers and snowboarders.
Snowplow: 'V' formation of the skis for turning or slowing down. 
Wax: Applied to the bottom of skis and snowboards for a smoother ride.
White Out: When visibility drops to zero.