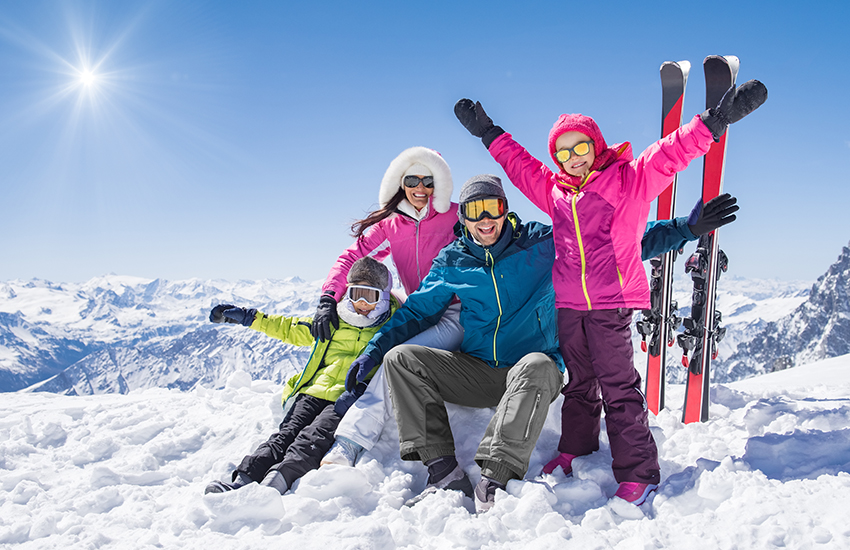 A family ski trip can be one of your most cherished memories. But, preparing for one can ruin your trip before it's even begun. Between ski gear for yourself, your partner and the little ones, you must be thinking, "there has to be a better way." Luckily, with our family ski trip packing list, you can spend less time worrying and more time relaxing.
Family Ski Trip Packing List: The Essentials & More
Travel Essentials:
Starting to pack for your family ski trip? Gather these travel essentials first.
𝤿 Driver's license or I.D.
𝤿 A copy of your flight itinerary and hotel reservations (print or electronic)
𝤿 Ski passes (best to reserve in advance)
𝤿 Charging cords
𝤿 Books, toys, etc. (something to keep the kids entertained while traveling)
Ski Gear:
Why rent at your ski resort when you can shred on your own gear? Your family ski trip packing list should include all of the essentials for a successful ride down the mountain.
𝤿 Poles
𝤿 Bindings
𝤿 Boots
𝤿 Helmets
𝤿 Goggles
𝤿 Hand Warmers
𝤿 Gloves
Clothing:
The key to a great family ski trip is staying warm. And the key to staying warm is including every layer on this packing list in your luggage. In this category, it's ok to overpack.
𝤿 Baselayers
𝤿 Mid-layers
𝤿 Wool or thermal hoodie
𝤿 Ski jacket
𝤿 Ski pants
𝤿 Neck gaiter or scarf
𝤿 Wool socks
𝤿 Mittens
𝤿 Warm hat
𝤿 Swimsuit & flip flops (for heated pool or hot tub)
𝤿 Jeans
𝤿 Sweaters
𝤿 Sleepwear
𝤿 Undergarments
Safety:
Ski resorts across the globe are filled with backcountry trails and unexplored acreage. So, if anyone in your family enjoys skiing off the beaten path, consider including these safety items on your family ski trip packing list. 
𝤿 Sunscreen
𝤿 Map
𝤿 GPS
𝤿 Avalanche Beacon
𝤿 Probe
𝤿 Shovel
𝤿 First aid kit
𝤿 Headlamp
𝤿 Compass
𝤿 Hand sanitizer
𝤿 Clorox wipes
𝤿 Extra face masks
Baby Items (if applicable):
If you're traveling with a little one, it's extra important to ensure they stay warm. Include these items on your family ski trip packing list and consider packing additional layers if you have the space.
𝤿 Fleece onesies
𝤿 Snowsuit
𝤿 Mittens
𝤿 Hat
𝤿 Thermal base layers
𝤿 Boots
Toiletries:
While your intended destination may have these items included in your accommodations, it's best to include some on your family ski trip packing list as a backup.
𝤿 Shampoo
𝤿 Conditioner
𝤿 Body soap
𝤿 Lotion
𝤿 Razors
𝤿 Hairbrush and ties
𝤿 Glasses or contact lenses
𝤿 Medications
Extra Options:
If you have extra packing room to spare, it wouldn't hurt to throw a couple of these items in, but it's not necessary.
𝤿 Camera or Go Pro
𝤿 Snacks
𝤿 Water bottle
𝤿 Portable charger
𝤿 Waterproof phone case
---
For your special family ski trip, spend more time enjoying your vacation and less time stressing about packing with our family ski trip packing list. To complete your hassle-free experience, ship your skis, snowboard, and luggage ahead to avoid carrying, checking, and claiming baggage. Get a free quote or learn more today.