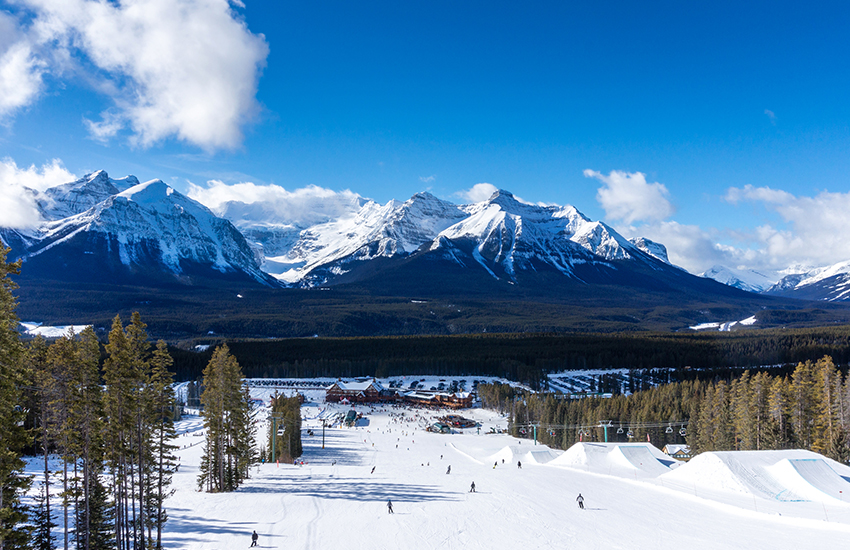 Flying down your first black diamond trail. Toasting to the thrills of the day over a warm whiskey. Strolling down Main Street blanketed with snow and twinkling lights. Needless to say, we can hardly think of a better getaway than that of a winter vacation. With luxurious accommodations, lively après ski, and some of the most dramatic terrain you'll ever ride, these top five Canadian ski resorts are all of your dreams come true.
Top Canadian Ski Resorts for an Extra Dose of WOW
Grouse Mountain, British Columbia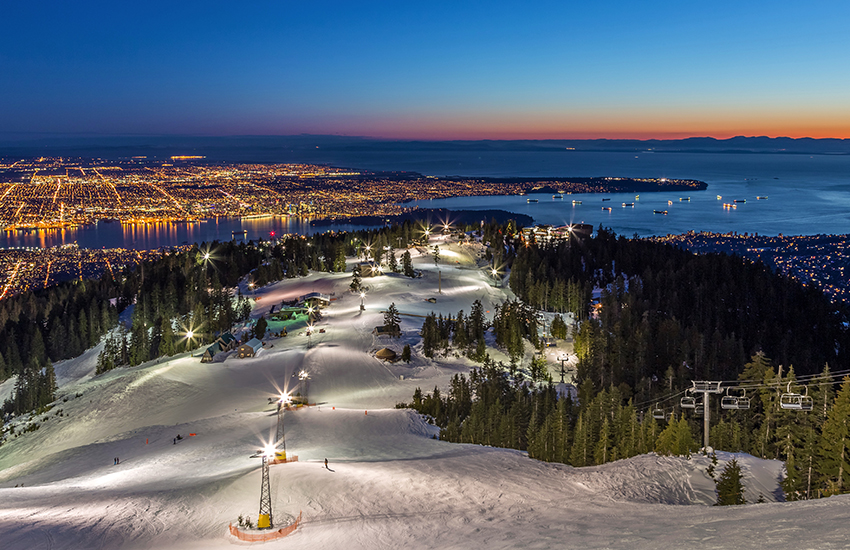 Since opening in 1926, Grouse Mountain has continued to entice skiers and snowboarders across the globe to the 'Peak of Vancouver.' The resort offers 33 ski and snowboard runs, 6 terrain parks, and 15 trails that remain lit after sundown. Because the only thing predictable about nature is its unpredictability, Grouse comes equipped with some of the finest tools in artificial snowmaking. Not to be confused with artificial snow, the resort prefers the term 'man-made snow' as you'll still be skiing on real snowflakes. 
As one of the top Canadian ski resorts, Grouse Mountain also boasts the continent's largest aerial tramway system. Guests can enjoy stunning views of the Pacific Ocean and nearby downtown Vancouver. Other activities include a snowshoeing park, a wildlife refuge for endangered species, and several restaurants and bistros to enjoy Vancouver's seasonal cuisine.
Mont Tremblant, Québec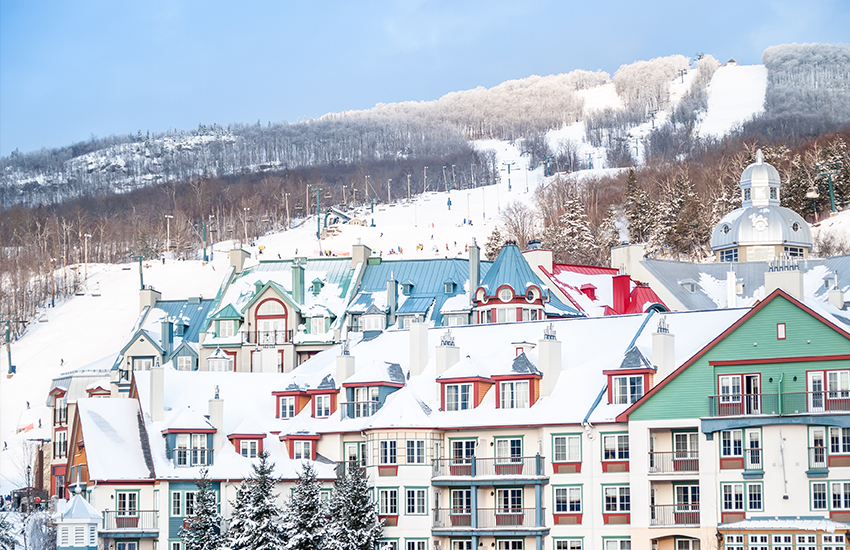 With a stunning portfolio of activities and attractions, Mont Tremblant is undoubtedly one of the top Canadian ski resorts. This four-season, vacation destination has all you could ask for, keeping guests longing for more. Mont Tremblant features more than 750 acres of skiable terrain, 102 trails, and 14 lifts. The slopes cater to the needs of every skier or snowboarder, too, with an even distribution of trail classifications.
As one of the top Canadian ski resorts, Mont Tremblant's picturesque, pedestrian-only village is equally as impressive as the slopes. The colorful facades of the French-inspired boutiques and restaurants light up against the bright white snow. And a stroll through the streets as the last rays of sun dance across the cobblestone is the most magical ending to a day spent slopeside. 
Blue Mountain Resort, Ontario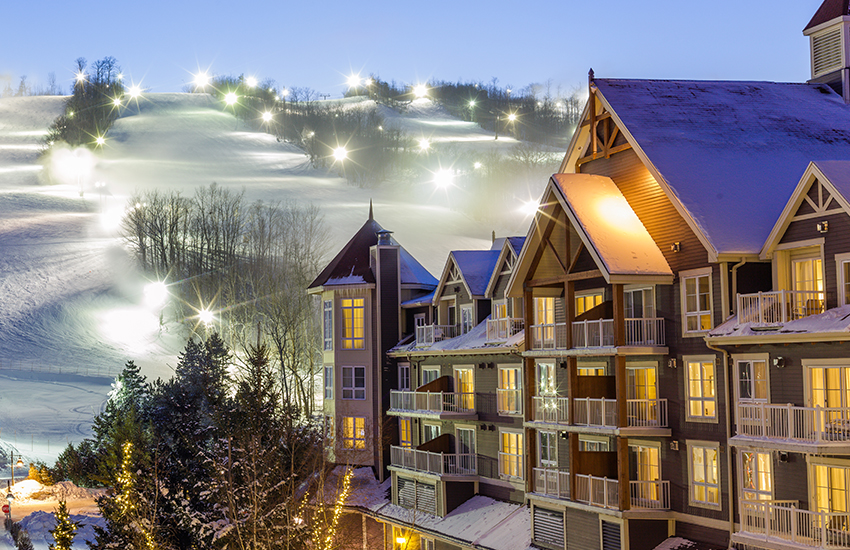 Nestled on the shores of the Georgian Bay, Blue Mountain Resort is Ontario's largest and only year-round mountain resort. The slopes offer more than 350 acres of terrain for skiing and snowboarding along with three terrain parks. 42 named trails are also available of which 30 remain lit for night skiing. 
Like many top Canadian ski resorts, the skiing at Blue Mountain is outmatched only by the 50+ area bars, restaurants, and retail establishments. Enjoy authentic après ski at Jozos Bar or simple, but savory, alpine dining at the Oliver & Bonacini Cafe Grill. Blue Mountain offers a wide array of accommodations as well including boutique hotels, private homes, and more.
Whistler Blackcomb, British Columbia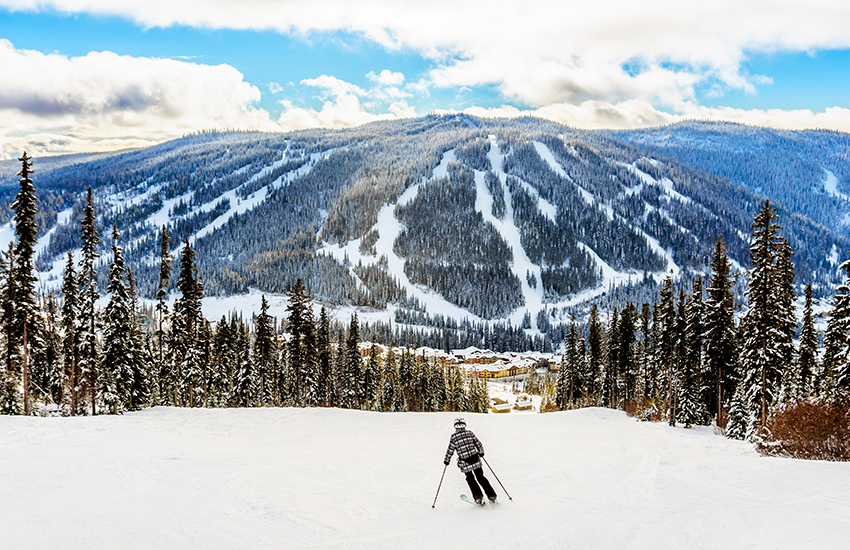 Whistler Blackcomb is highly regarded by skiers and snowboarders as one of the top Canadian ski resorts. It's the largest of its kind in North America with more than 8,000 acres of skiable terrain and 200+ marked runs. For those looking to explore off the beaten path, tons of untouched, backcountry acreage awaits. This top Canadian ski resort also boasts a relatively long season in comparison to other area resorts. From November to May, Whistler Blackcomb averages almost 40 feet of snow. 
Luckily, things are just as epic off the mountain at Whistler. A pedestrian village offers luxurious ski-in/ski-out accommodations along with legendary après ski, spas, shopping, nightlife, and more.
Lake Louise Ski Resort, Alberta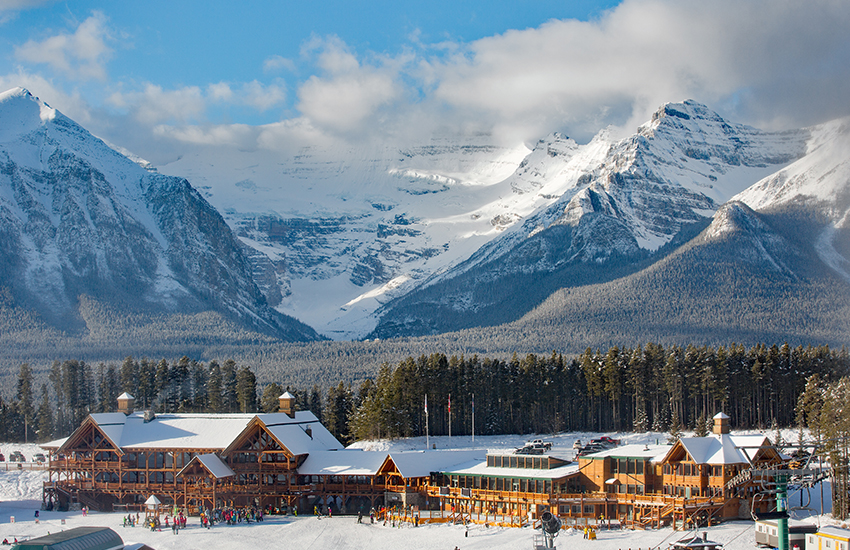 With more than 4,200 acres of groomed runs, chutes, and alpine bowls, it's no question why Lake Louise is one of the top Canadian ski resorts. If the four mountain faces of skiable terrain weren't enough, the stunning alpine views surely seal the deal.
Lake Louise Ski Resort is the largest in the Canadian Rockies and is a perfect destination for skiers and snowboarders of all ages and abilities. The resort boasts a sightseeing gondola for a sky-high tour of Banff National Park and its infamous glaciers. For even more thrilling vantage points, you can trade your skis for snowshoes and experience a walking tour unlike any other.
---
With shipping service available to and from all of these top Canadian ski resorts, you can travel bag-free to your winter paradise on every trip. Learn more about shipping ahead, get a FREE quote, or start shipping today!