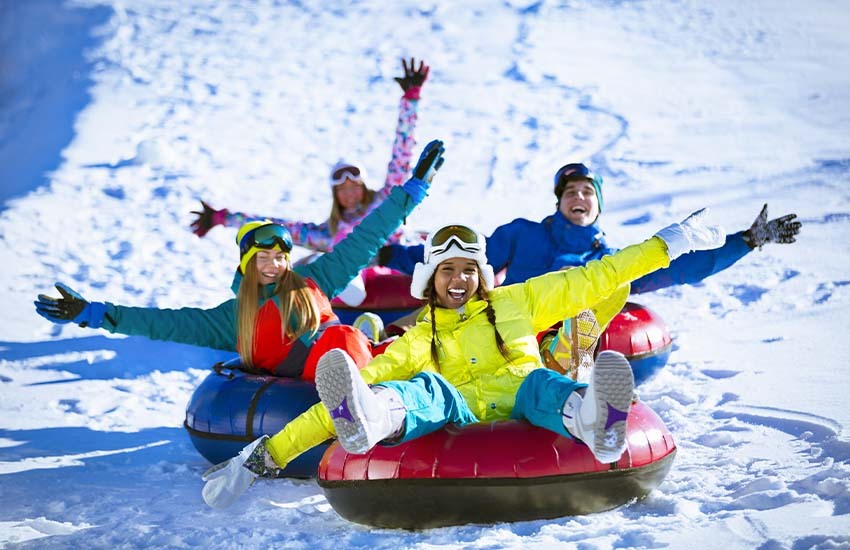 A snow park in Central Florida? Yes, you heard that right! For snowsport fans residing in the Sunshine State, Snowcat Ridge is a must-visit. It's the state's only snow tubing park, but it has so much more to offer. Snowcat Ridge features 60 ft tall and 400 ft long slides along with five other stand-out attractions.
Exploring Snowcat Ridge
Snowy Slopes
Snowy Slopes, the highlight of the Snowcat experience, is an extreme snow-tubing park. You can access this part of Snowcat Ridge with a General Admission ticket which includes a 2-hour snow tubing session. Or, you can enjoy all-day access when you purchase the unlimited snow tubing upgrade.
Arctic Igloo
Arctic Igloo is the perfect spot for younger children that may not be granted access to other attractions in the park due to size limitations. Inside of an artificial igloo, you can experience truly cold temperatures and snowball fights with actual snow. General Admission tickets grant you all-day access. So, when you finish snow-tubing, head to the Arctic Igloo for extended fun.
Crystal Ribbon
Snowcat Ridge also offers ice skating at the Crystal Ribbon – an outdoor ice skating ribbon that even boasts a nighttime light show. Anyone with a general admissions ticket has all-day access to the Crystal Ribbon skating rink. But, keep in mind that ice skate rentals must be bought separately or you can bring your own. 
Eskimo Outpost
Want to step it up at Snowcat Ridge? Rent a private igloo for a birthday party or other special event at Eskimo Outpost. Snowcat Ridge lets you rent out an igloo for up to two and a half hours for up to twenty guests with both indoor and outdoor seating. 
Alpine Village
After a long day of snow tubing and ice skating, settle down at Alpine Village. Enjoy a few drinks at the Biergarten or have a bite to eat at the food court. Accessible with a General Admissions ticket, you can also enjoy roasting s'mores over a campfire, shopping, and more.