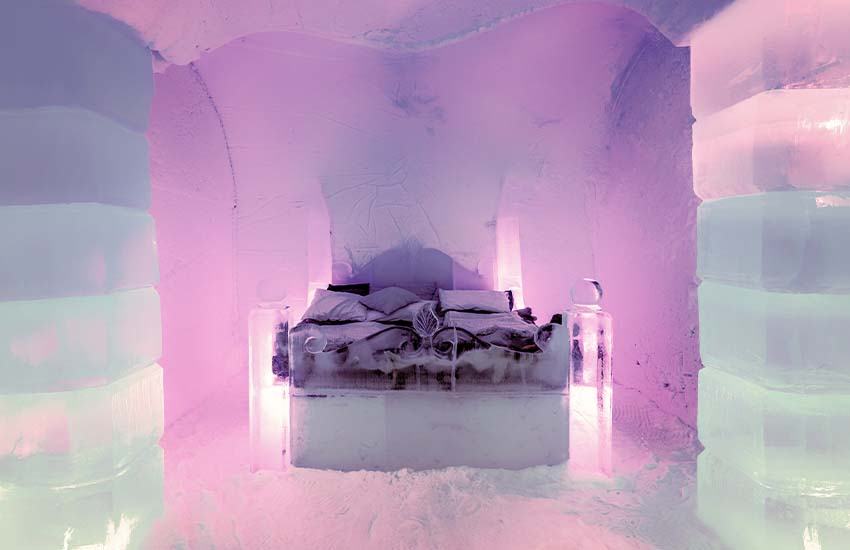 Have you ever wanted to truly immerse yourself in winter? Sure, you can ski and snowboard all season long. But nothing compares to a stay in an ice hotel. Yes, you read that right.
There are dozens of ice hotels around the world that are rebuilt every year when weather permits. And because such hotels aren't there for long, there's no time to waste! So, from Alaska to Romania, these are some of the world's coolest ice hotels – no pun intended.
Ice Hotels Around the World
1. Chena Hot Springs Resort
Fairbanks, Alaska
Kicking off the list is a location in the U.S. that actually has the weather to pull off such a tremendous feat: Chena Hot Springs Resort in Fairbanks, Alaska. Now, don't be fooled by the name. Even though this ice hotel is on the same property as hot springs, the ice isn't affected. Another unique aspect of this ice hotel is that it's inside the Aurora Ice Museum. The hotel itself only has four rooms. So, if you're not able to snag a room, you can still enjoy the museum and the bar made of ice that serves martinis in glasses also made of ice!
2. Hotel de Glace
Quebec, Canada
For an authentic Nordic getaway, escape to one of the best ice hotels in the world at Hotel de Glace. With twenty-one suites, arctic spas, wedding spaces, and incredible ice sculptures, it's no wonder why so many love this Canadian ice hotel.
3. Hotel of Ice
Judetel Sibiu, Romania
The Hotel of Ice in Judetel Sibiu, Romania, has been re-created seasonally since 2005. Nestled in the heart of the Fagaras Mountains, each ice block used to form the hotel weighs almost 70 pounds. The hotel also offers several different room types including double rooms for couples and igloos to accommodate larger groups or families.
4. The Snowcastle of Kemi
Kemi, Finland
Open year-round with an exhibition of snow and ice to keep you occupied, The Snowcastle of Kemi is one of the world's top ice hotels. There's plenty to take in, too, including snowy floors, an all-ice restaurant, incredible ice sculptures, and more.
5. Hoshino Resorts Tomamu Ice Village
Hokkaido, Japan
Our next ice hotel isn't open year-round, but Hoshino Resorts Tomamu Ice Village doesn't need to be open 365 days a year to stand out from the pack. Tomamu Ice Village offers one of the most immersive ice experiences. The hotel staff even encourages guests to wear as many layers as possible with temperatures reaching -22 degrees Fahrenheit. 
6. Sorrisniva Igloo Hotel
Alta, Norway
Sorrisniva Igloo Hotel is one of the most unique ice hotels and it's open year-round. Along with the ambiance, the ice hotel also boasts snow furniture, reindeer fur beds, ice sculptures, and stunning views of the Northern Lights. 
7. Icehotel 
Jukkasjarvi, Sweden
Icehotel in Jukkasjarvi, Sweden may have a basic name, but its interior is anything but expected. Opened in 1989, Icehotel was the world's first ice hotel and has remained a popular destination for natives to Sweden and visitors alike.