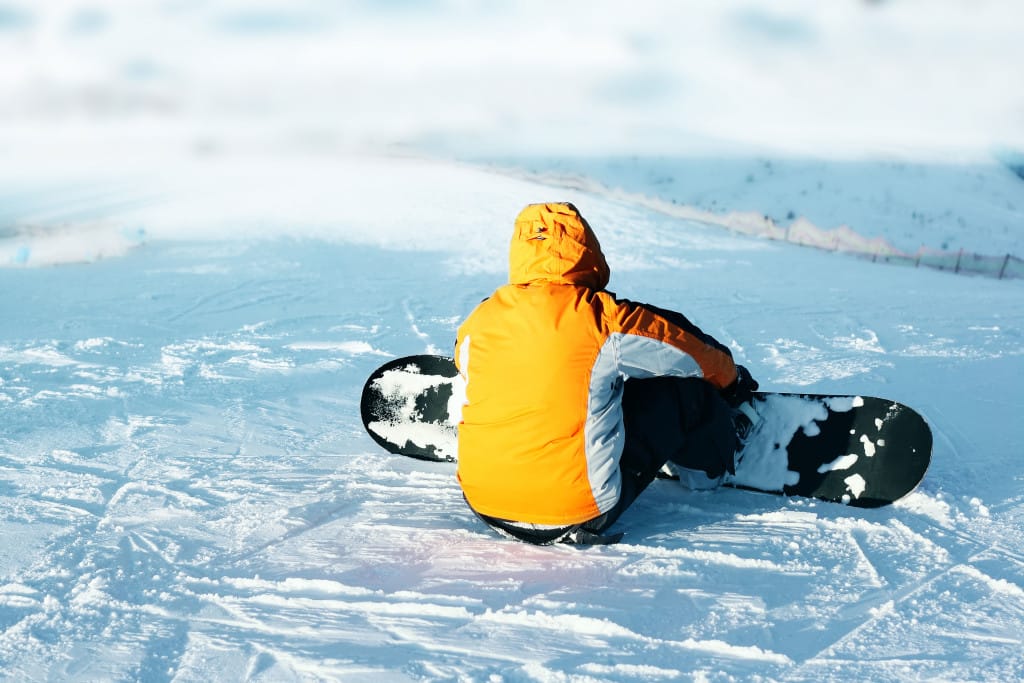 You're an avid skier or snowboarder who spends every winter weekend shredding your way down a different mountain. After tackling all the green and blue slopes at your favorite resorts, you are ready for more of a challenge. At most ski areas across the United States, that means taking on a black-diamond run.
What Makes a Ski Slope a Black Diamond?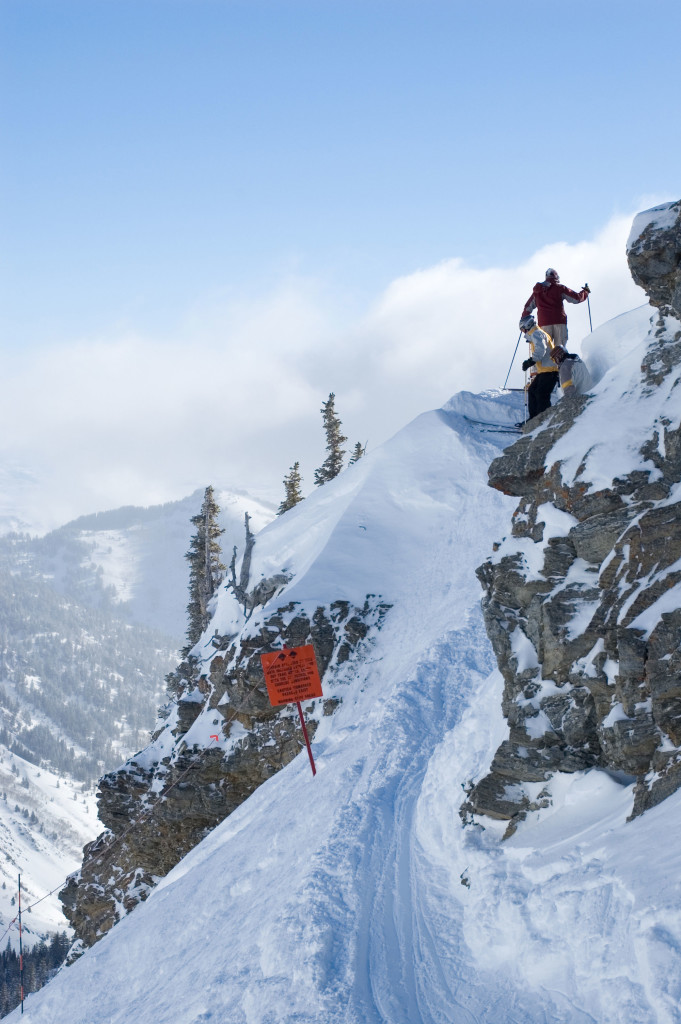 Ski resorts don't have a standardized rating system but use certain colors to categorize the courses at their ski spot – green signifies the easiest runs, blue means they are intermediate, and black, and in some places double black, represents the most challenging trails on the property. Because there are no set specifications for each color, some blue slopes may be equivalent to a black course at a different resort.
A black-diamond run is the steepest in the ski area, rides more narrow than other surrounding slopes, and may have more hazards, such as trees, cliffs, high winds and rocky areas, throughout the trail. These tougher rides also might include tighter and faster turns, making them more suitable for experienced skiers and snowboarders who have better control, as well as basic knowledge of techniques that may help them avoid serious injury.
At some resorts, there are also double-black-diamond trails, which are the most difficult to maneuver through and often aren't even maintained, or groomed, making them somewhat risky for anyone but extremely advanced skiers. But if you are a frequent, long-time skier and want to challenge yourself in a new way, a black-diamond slope can be fun and exhilarating. So how do you know which black diamonds are going to give you the biggest and best thrill?
Below are eight of the most terrifying black-diamond ski slopes in the world. If you are ready for the next level of difficulty, start planning your trips out to these exciting ski spots.
1.    "Harakiri" Black-Diamond Trail in Mayrhofen, Austria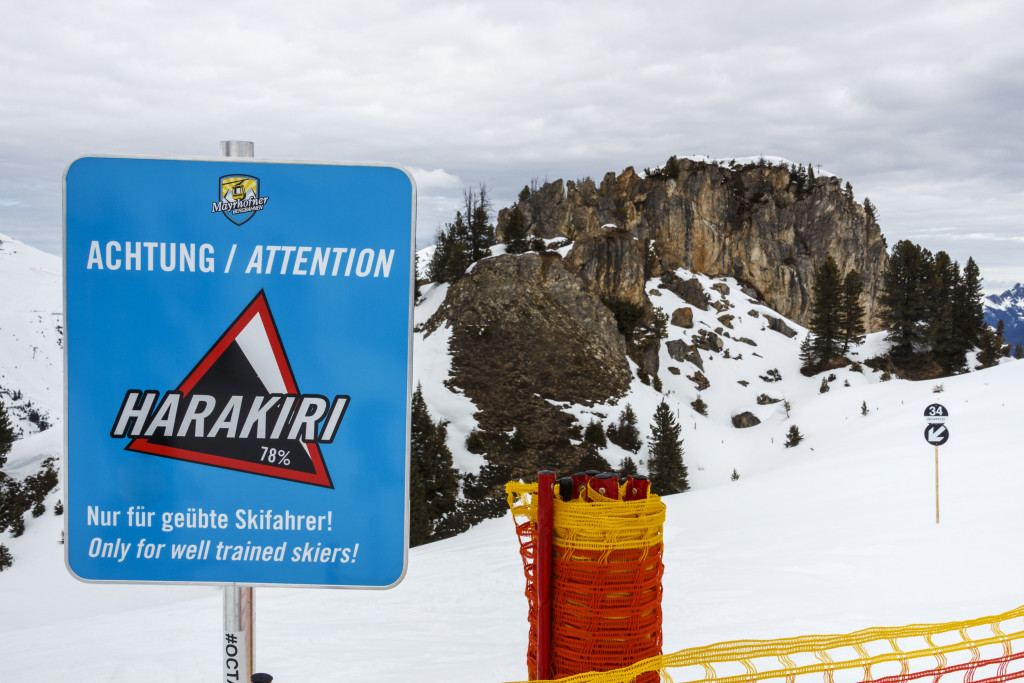 If you are looking for a scary adrenaline rush, ski Harakiri of the Austrian Alps in Mayrhofen. The name itself is a little fearsome, as Harakiri means "ritual suicide by Samurai" in Japanese. It is the steepest black-diamond slope in the country at 38 degrees, with a 78 percent incline. Skiers come fast down the 1,230-foot drop, and if you fall, it is almost impossible to stop yourself before reaching the bottom.
2.    "Corbet's Couloir" in Jackson Hole, Wyoming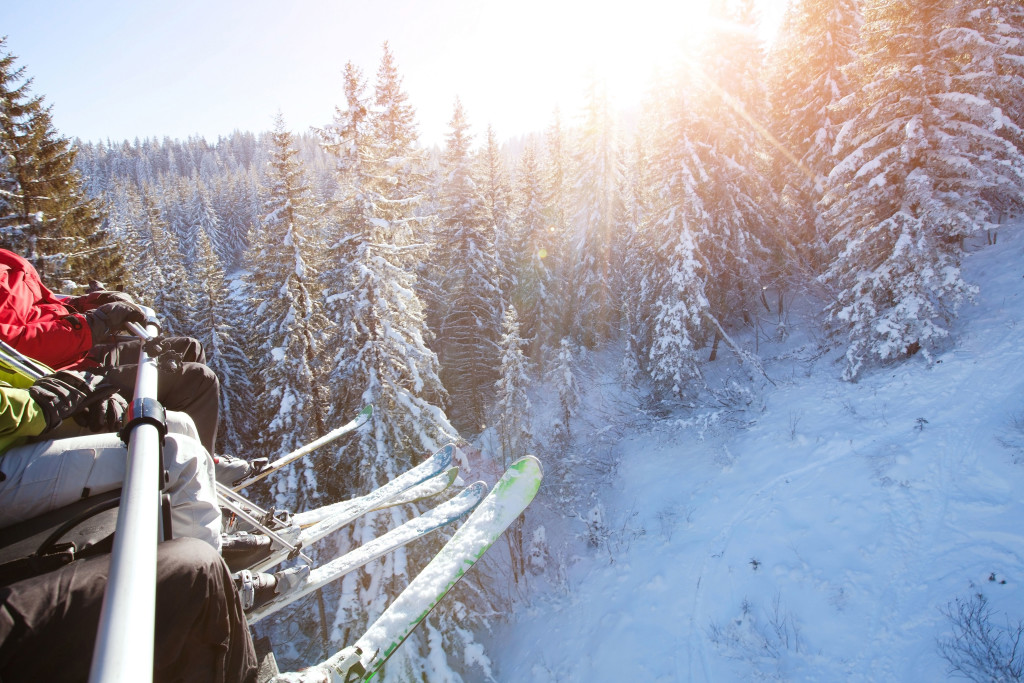 As part of a giant mountain standing at 10,450 feet tall, Corbet's Couloir has been called "America's scariest ski slope." The most terrifying part of the run, however, is the very beginning of it. The route starts with a drop-off that requires skiers to first fall 10 to 30 feet before hitting a 60-degree slope that stays between 40 and 60 degrees all the way to the bottom. It's considered a double-black-diamond slope, but is relatively short, at a length of just over 490 feet.
3.    "The Streif" at Hahnenkamm in Kitzbühel, Austria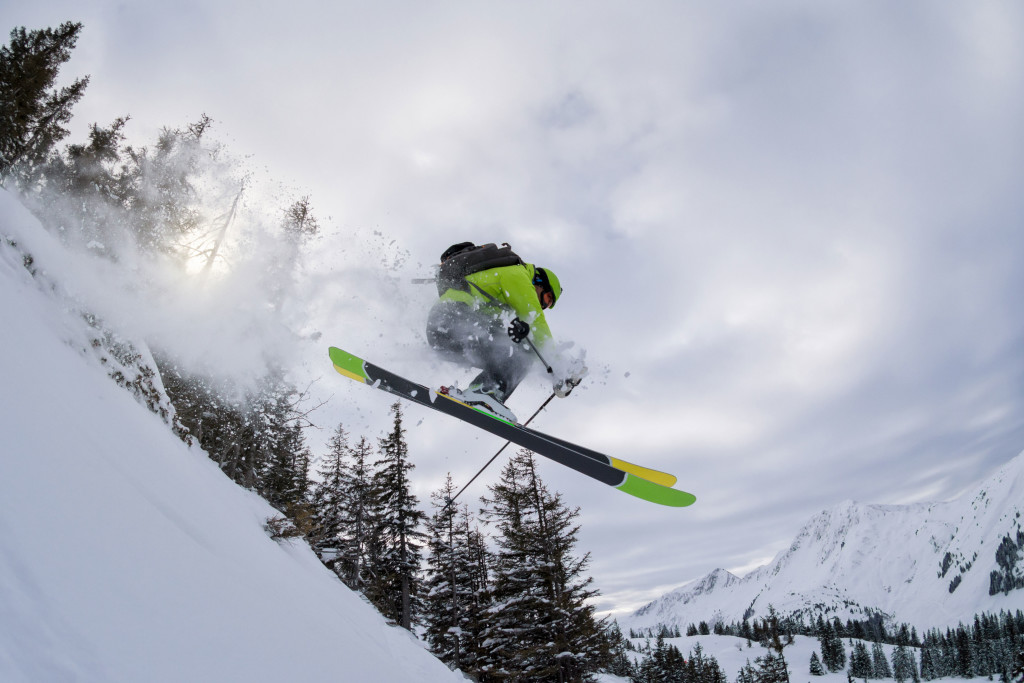 If you make the trip out to Austria to take a shot at Harakiri, set aside some time hit The Streif ski slope in Kitzbühel, which is about an hour and a half west of Mayrhofen by car. The ski resort, Hahnenkamm, is a host of World Cup alpine ski races each year, and the most well-known hill is the Streif. It is a 5,462-foot downhill course where racers have hit speeds of 90 miles per hour coming down. The end of the run can be quite terrifying, as it requires skiers to make a jump that can propel you more than 250 feet past the end of the trail.
4.    "Delirium Dive," at Sunshine Village in Canada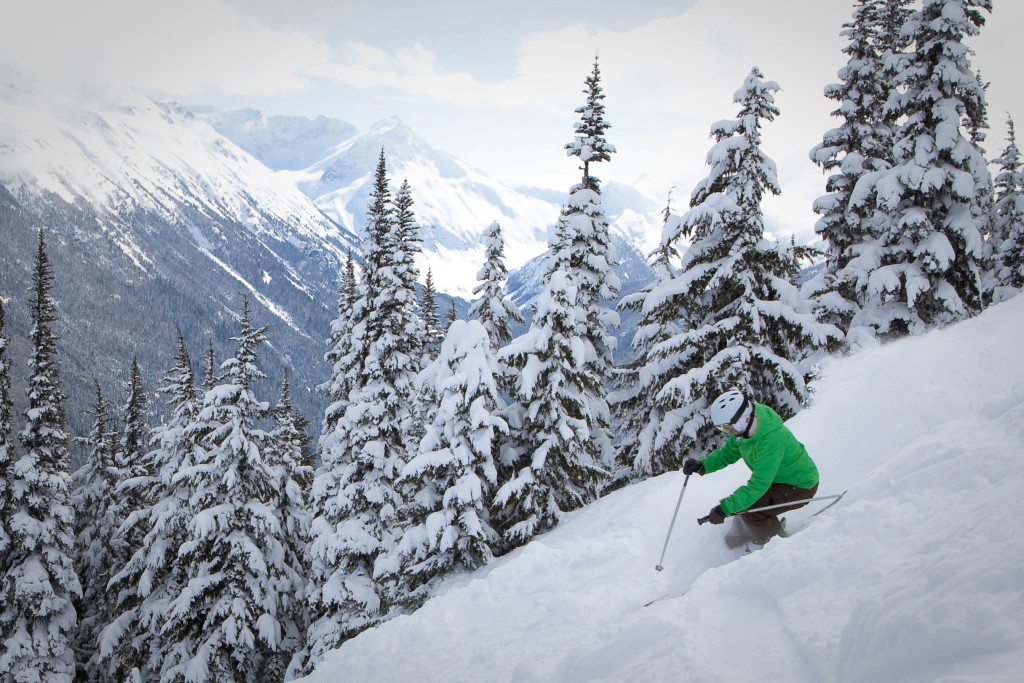 An expert-only black-diamond trail, Delirium Dive in Alberta, is not only rated a double-black-diamond but is also avalanche prone. In fact, only those with avalanche transceivers, shovels, and collapsible avalanche probes can attempt the run. No one is allowed to ski the course alone, as the terrain is rough and conditions are always changing. The hill holds a pretty steady slope of 50 degrees and the beginning of the run requires a jump straight down to a narrow chute.
5.    "Christmas Chute" in Girdwood, Alaska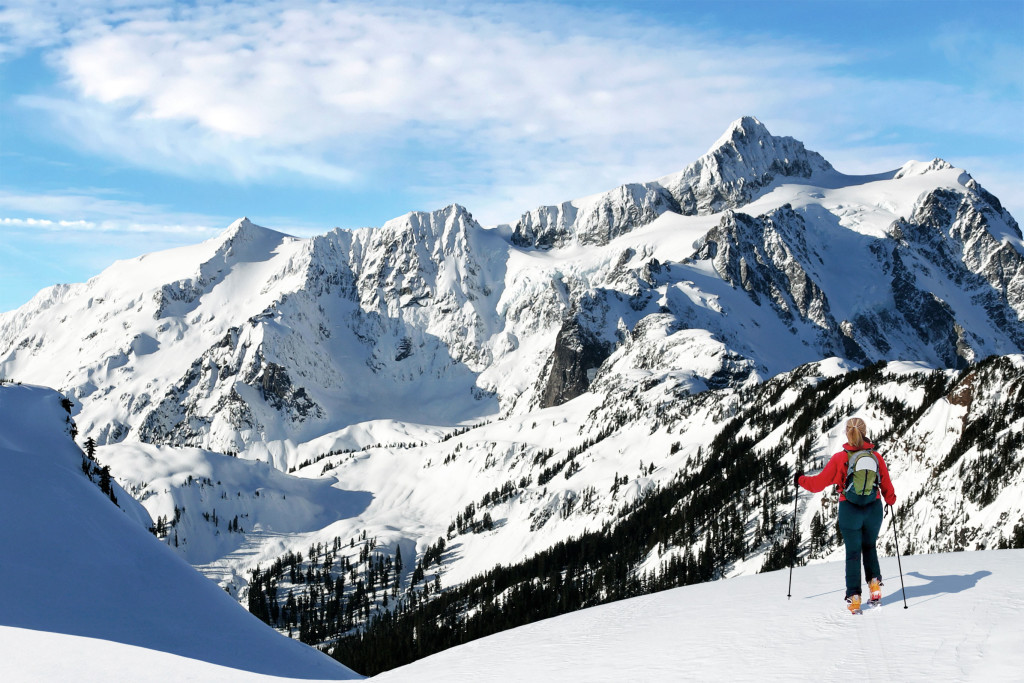 The course known as the Christmas Chute at Alyeska Resort just outside of Anchorage is extremely steep and gets very narrow in some sections. It's in the North Face area of Alyeska Mountain and has been marked as "Expert Only." Even seasoned skiers can quickly find themselves falling down the icy chute. The trail stands at 2,800 feet and runs for 1,000 feet at a 50-degree angle. Simply dropping into the chute is terrifying, as it is narrow and lined with rocks on both sides.
6.    "Grand Couloir" in Courchevel, France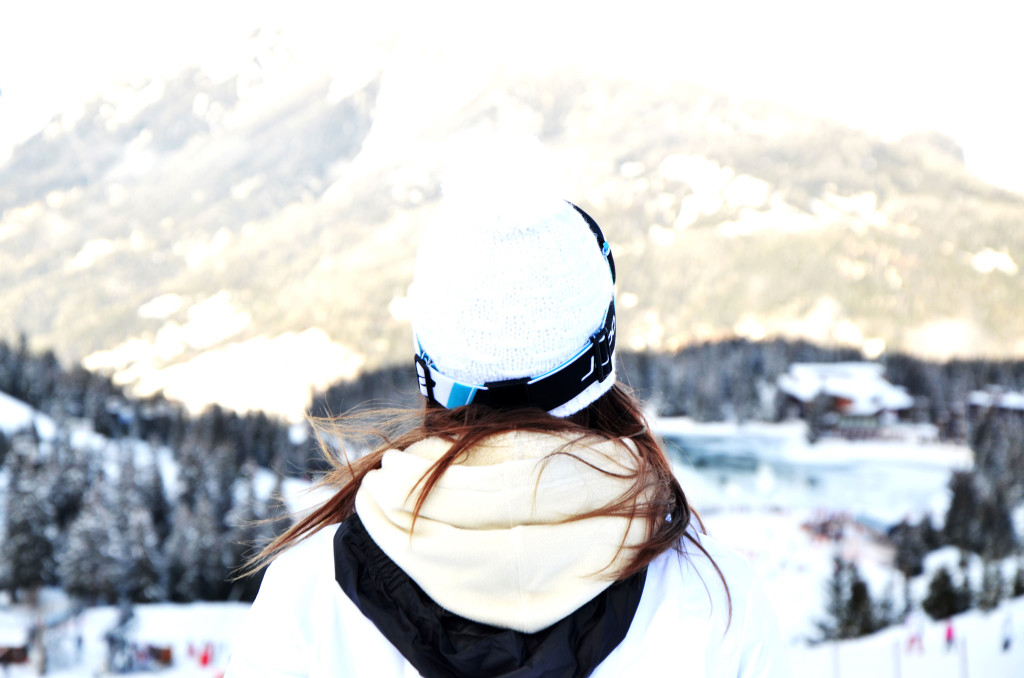 The challenge of this black-diamond run is not only going down the trail but also the way you get to the top of it. You have to move slowly and carefully across an icy, narrow 656-foot ridge. At the nearly 9,000-foot tall starting point, you have to slide down an incredibly steep chute before navigating your way through a series of moguls. Some days the snow can be rather icy, making the 35-degree piste a little tricky.
7.    "The Black Hole" at Smugglers' Notch Resort in Vermont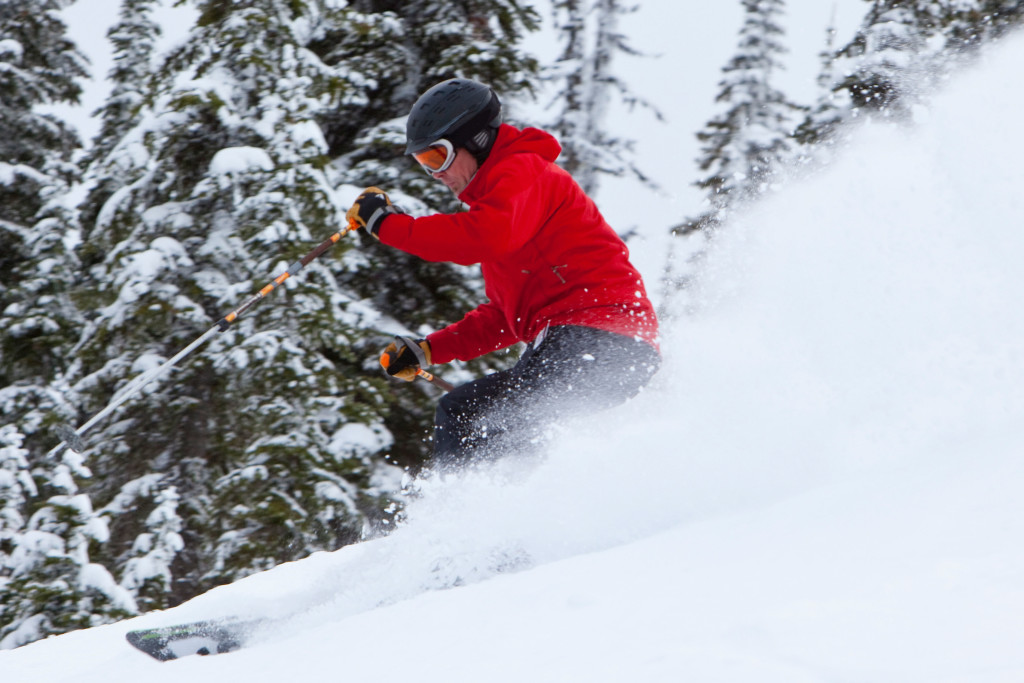 Named the Northeast's only triple black-diamond run by the resort, The Black Hole is almost as scary as it sounds. The terrain is a combination of steep slopes, abrupt cliffs, and bumpy moguls, all of which run through woods full of trees. Just under a third of the 1,600-foot trail is sloped at 65 to 70 percent, pushing skiers down the course quickly and forcefully – perhaps a somewhat similar feeling to being pulled into a black hole.
8.    "Olympiabakken" at Kvitfjell in Norway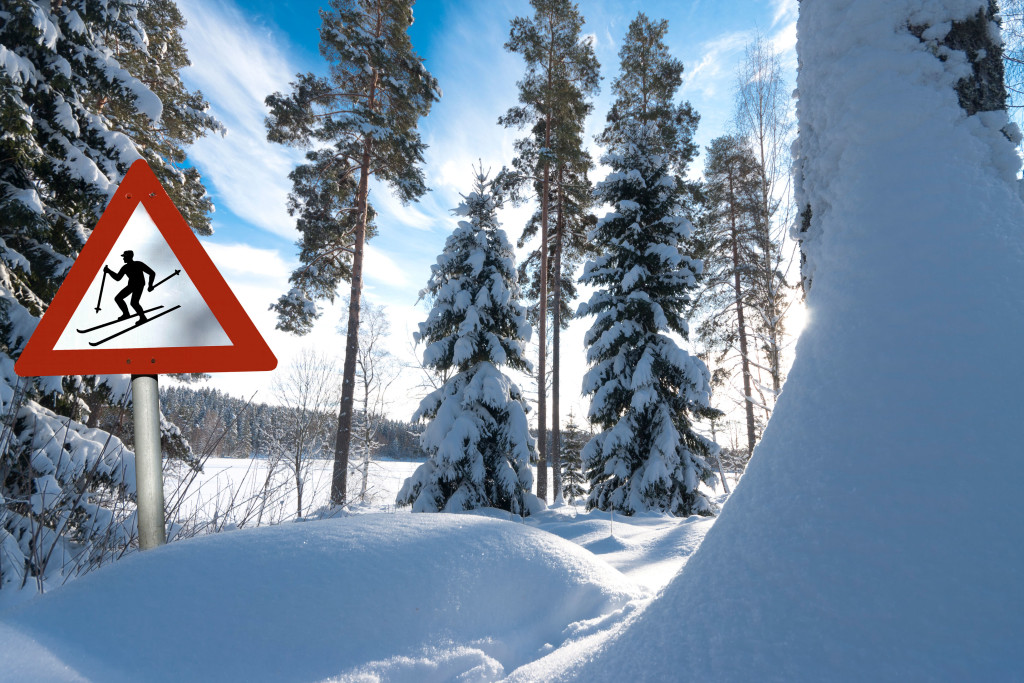 The name of the resort, "Kvitfjell," means "white mountain" in Norwegian, and the Olympiabakken is one of the toughest courses in the ski area. It was designed specifically for downhill and Super G events in the 1994 Olympics and has now become part of the men's World Cup races. The trail is almost two miles long and more than 2,600 feet tall, with inclines as steep as 64 percent in some areas.
With so many options to choose from, are you ready to ski black diamonds? Before ever heading out to the slopes, always make safety a priority. These courses can be an amazing thrill ride and a lot of fun, but only if you are prepared and experienced. If you are an expert skier and riding some of the most terrifying courses sounds like the perfect way to spend your vacation, start planning your travels.
Once you have your trip booked, make long travel days a bit simpler by shipping your skis ahead of you. Ship Skis will send your equipment anywhere in the United States, and to 220 countries around the world, so your skis or snowboard are ready and waiting for you when you arrive at almost any destination. We will even handle customs documentation for international shipping. Ship Skis makes your winter travels hassle-free so you can focus on smashing these scary slopes.
Resources:
https://www.trails.com/facts_19849_double-black-diamond-ski-definition.html
http://www.thedailybeast.com/galleries/2010/12/21/the-world-s-13-most-dangerous-ski-runs.html
http://www.cnn.com/2014/01/13/travel/worlds-best-ski-runs/
https://www.kitzbuehel.com/en/winter-holiday/kitzbuhel-ski-area/streif
http://www.skibanff.com/things-to-do/delirium-dive-wild-west/
http://www.foxnews.com/travel/2017/01/30/5-most-dangerous-ski-runs-in-world.html
http://www.smuggs.com/pages/winter/skiride/glades.php