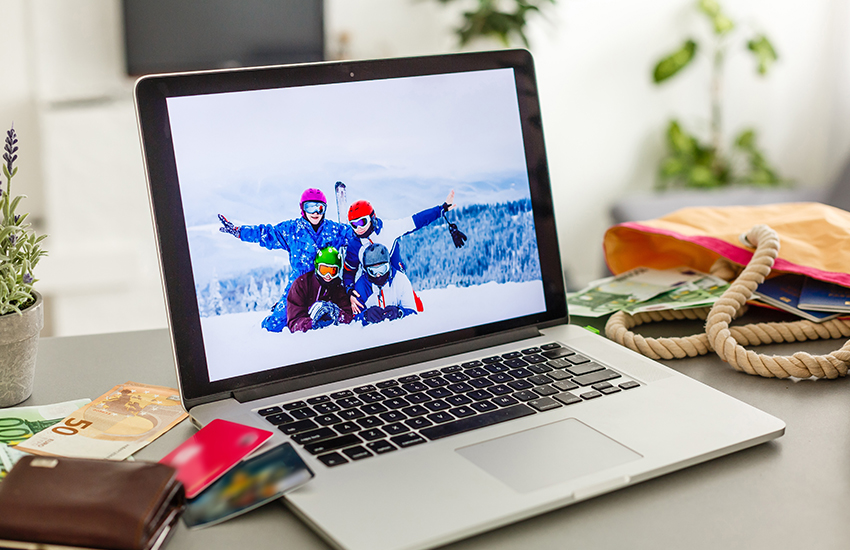 From transportation to accommodations, planning the perfect ski trip can be challenging. Get the most of your time on and off the slopes with our expert guide and learn how to plan a ski trip in a matter of minutes.
Planning a Ski Trip Has Never Been Easier
Supplies Needed:
Soft travel bag, hard case, or box

Packing tape (if utilizing a box)

Shipping label fly tag

Bubble wrap, packing paper, or other protective materia

l
Time Needed:
Step 1 – Pick Your Destination:
The first step in learning how to plan a ski trip, and arguably the most exciting part of the process, is choosing where you want to go! Whether it's the Rocky Mountains in Colorado or the Alps of France, it's best to thoroughly research your destination to understand what each has to offer. If you're traveling with beginner skiers or happen to be one yourself, be sure to investigate whether you're intended destination offers beginner slopes or instruction. Additionally, your destination should have plenty of après ski and shopping options, too, for your time spent off the slopes.
Step 2 – Book Your Trip:
If you're wondering how to plan a ski trip on a budget, many ski resorts offer on-site accommodations that may be paired with lift tickets or passes for other activities. Exploring these package options when it comes time to finally book your flights and accommodations may save you additional dollars. If you are interested in other activities like a snowmobile tour or ice skating, be sure to book your tickets ahead of time to secure your spot. 
Step 3 – Pack Your Bags:
As your departure date nears, it's time to pack your bags – one of the final steps in learning how to plan a ski trip. From ski gear to off-mountain outfits, it's important to make sure nothing is left at home. Use our suggested packing list as reference to ensure you're bringing everything you may need.
Step 4 – Ship Your Baggage:
Lugging your bulky winter gear to and from the airport is the worst start to any winter getaway. But, how can you avoid this when you plan a ski trip? The answer is shipping. Don't let the hassles of airport travel tempt you into leaving your gear at home. Ship Skis allows you to ship your skis, snowboards, and luggage directly to your destination so you can avoid carrying, checking, and claiming baggage.
Step 5 – Arrive at Your Destination:
The final step in learning how to plan a ski trip is enjoying the fruits of your labor! If you've elected to ship your skis and snowboard ahead, simply arrive at your destination to find your winter gear already there. Slip on your boots, buckle into your skis, and hit the slopes. You've successfully planned your first ski trip!
---
Now that you know how to plan a ski trip, explore some of the top destinations to consider adding to your itinerary. We'll see you on the slopes!