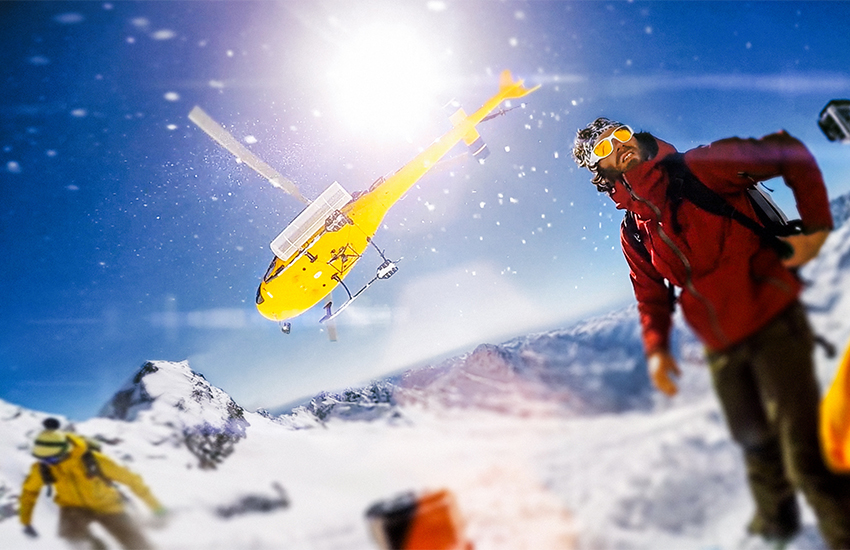 If you know anything about skiing, heli-skiing is likely on your bucket list. Yes, it is quite expensive, and yes you have to be at a certain level of skiing to do it, but absolutely nothing compares to heli-skiing. For those unfamiliar with this version of the sport, heli-skiing involves a ride to the top of a mountain via helicopter, and flying down the slopes (with a guide) to the bottom – only to be picked back up again by the helicopter! It's one of the coolest ways to ski off-piste and access some seriously fresh and untouched powder.
Where To Go Heli-Skiing 
1. Revelstoke
British Columbia, Canada
British Columbia is known for its epic powder, most notably at Revelstoke. In fact, there are more than 3 million acres of skiing or snowboarding terrain ensuring you never have a boring day on the slopes. With so much acreage for riding, you bet the heli-skiing is on another level at Revelstoke.
2. Telluride
Tellurida, Colorado
To experience some seriously untouched backcountry, head on over to Telluride, Colorado. Telluride is known for serving up some challenging terrain and heli-skiing in the area grants you access to the best of the best. Many guides in the area have been doing it for nearly three decades, so you're sure to be in good hands. 
3. Niseko
Hokkaido, Japan
If you've never skied in Japan, you're missing out! Japan, specifically the Hokkaido area, is known for producing some incredible powder. It's deep, it's dry, and it's the perfect place for some of the world's best heli-skiing. With the backdrop of Mount Yotei, an active stratovolcano, heli-skiing in Niseko takes it up a notch. Some heli-skiing packages even include a professional guide, transportation services from where you're staying, and safety equipment like an avalanche beacon, shovel, and probe.
4. Zermatt
Zermatt, Switzerland
Have you ever tried heli-skiing at 13,000 feet above sea level? At Zermatt, you can! While the ride down the mountain on virgin snow is the highlight of the experience, the ride to the top is just as exhilarating. You'll pass by the Matterhorn, the most famous mountain in the Swiss Alps, and soar above hundreds of other snow-capped peaks.
5. Cervinia
Breuil-Cervinia, Italy
Located in Northern Italy near the beautiful Matterhorn, Cervinia is a fabulous destination for heli-skiing. Heli-skiing in this area allows you to reach the highest and most challenging peaks. The helicopter ride itself is only a few minutes long. So, before you know it, you'll be in untouched backcountry making fresh tracks down the mountain.
Get your gear to the slopes easier than ever on your heli-skiing expedition with Ship Skis!